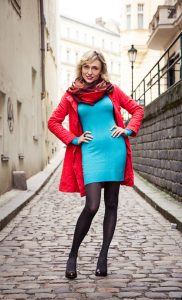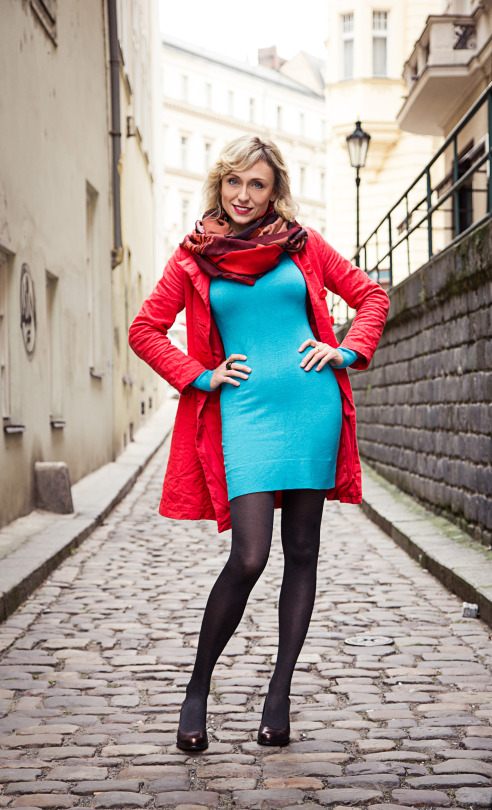 Coloratura Soprano Olga Jelínková Biography
Czech coloratura soprano Olga Jelínková (* July 21, 1978) studied at The Prague Conservatory under Antonie Denygrová (graduation 2002) and at the Academy of Performing Arts in Prague in Miloslav Podskalský´s class (graduation 2009). She also participated in interpretive courses by Richard Sigmund in Merano, Italy; master courses by Teresa Berganza in Santander, Spain, with concert tour around Spain and France; and master courses by Peter Dvorský in Znojmo and Piešťany and this summer by Gabriela Beňačková with whom she colaborates continuously.
Competitions:
In June 2011 Olga became a finalist of the prestigious singing competition Concorso di Canto lirico internazionale per Cantanti lirici – Giacomo Puccini (Giacomo Puccini's International Opera's Singers Competition) in Italian Luca and in November 2011 she won the 1st prize prize in Antonín Dvořák's International singing competition along with the Special Award of the Czech President Václav Klaus in Karlovy Vary.
The video from last years´s Competition Gala Concert:
https://www.youtube.com/watch?v=PtfsdYfoBQ0&feature=youtu.be
Among others, she also won the competition Ad honorem Mozart in Betramka, Prague (2008) and International Pustina Competition in Žďár nad Sázavou (2009).
Roles and performances:
She performed as Rosina (Rossini: The Barber of Seville) in South Bohemian Theatre in České Budějovice; as Eurydika (Offenbach: Orpheus in the Underworld) in J. K. Tyl Theatre in Pilsen and in The City Theatre in Brno; as Madam Herz (Mozart: The Impresario) in The City Theatre in Brno; as The Queen of the Night (Peter Shaffer: Amadeus) in Silesian Theatre in Opava; as Adele (J. Strauss: Die Fledermaus) and The Queen of the Night (Mozart: The Magic Flute) in The National Theatre in Brno; as Gilda (Verdi: Rigoletto) and Amina (Bellini: La sonnambulla) in F.X. Šalda Theatre in Liberec. She got a nomination for Thalia Award 2010 for the role of Amina. (Thalia Awards are the most prestigious ceremony for theatre performers in the Czech Republic.)
In July 2010 she performed as Micaëla (Bizet: Carmen) in Seoul, South Korea with the ensemble of the Prague State Opera. Since February 2012 Olga has been performing as The Queen of the Night in the Prague State Opera. Olga sang Bellini's Amina also in Polish Szczecin and German Ingolstadt. At the end of 2012 she also performed in the lead role of Lucia di Lammermoor (Donizetti: Lucia di Lammermoor) and later as Nanetta (Verdi: Falstaff) and as Despina (Mozart: Cosi fan tutte) in Silesian Theatre in Opava.
Olga performs with organ player Aleš Bárta and Baroque Jazz Quintet group overseen by pianist E.Spáčil and with Ensemble Martinů. She participated as a soloist in Mahler´s Symphony No. 4 in cooperation with FOK orchestra (September 2008) – led by Jiří Kout and Stabat Mater F. Poulence (April 2013) led by Serge Baudo. She regularly cooperates as a soloist with The Czech Philharmonic Collegium and took part in recording a CD for Classico, a Danish company, with the Collegium in 2005 (arias by A. Dvořák, G. Verdi, and G. Puccini), they had a concert tour around Japan as well (2008).
She recorded, among others, with violist Jitka Hosprová new song cycle by Zdeňek Lukáš Quis? for soprano and viola for the radio Český rozhlas. In 2011 she sang the voice of the main character in Jaroslav Brabec´s film Aplaus. The author of the music in this film – Jan Jirásek – has dedicated a new song cycle Voice on Canvas to her which they, together with pianist Martin Levický, recorded for Český rozhlas.
Her cooperation with The National Theatre in Prague started in 2014 by the role of Mégacles (Mysliveček: L´Olimpiade) in inscenation by famous German director Ursel Herrmann. Then she has performed as The Queen of the Night (Mozart: The Magic Flute) in The Estates Theatre in Prague and newly as The Nightingale (Stravinskij in The National Theatre in season 2015/16.  For this role she again got a nomination for Thalia Award 2015.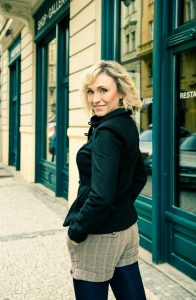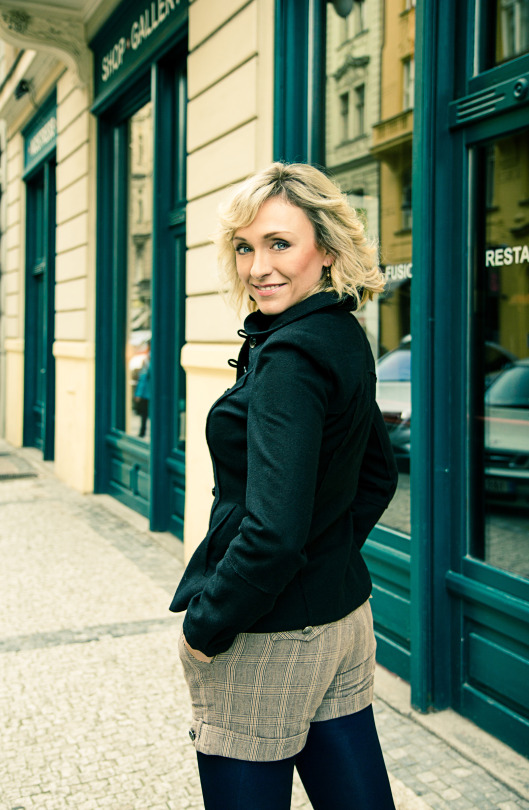 In October 2016 she sang the main role in the premiere of  Carl Orff´s Die Kluge that was reviewed in Opernwelt magazine 12/2016.
She has been involved with the Moravian Theatre in Olomouc since January 2015  till this season where she performed as a soloist in the role of Líza (Kálmán: Countess Maritza) and Gilda (Verdi: Rigoletto), Queen of the Night (The Magic Flute, Mozart), Musette (La bohéme, Puccini) etc.
In South Bohemian Theatre (České Budějovice- Budweis) she created all three roles in Ravel´s L´enfant et les sortilèges together: The Fire, the Princess and the Nightingale in May 2016.
In September 2016 she performed in the U.S.A: Boston Odyssey Opera in the role of Xenie (Dvořák´s Dimitrij).  It was internationally broadcasted on Sunday Nov. 13, 2016  on WCRB radio station http://classicalwcrb.org/#stream/0
Since season 2018/2019 she is involved with Staatstheater Saarbrücken where she is to create roles such as Violetta Valéry or Gounod´s Marguerite.
This season´s awards:
Olga is loved by the audience as well as by critics: in September 2016 she won the Audience prize for The most favourite singer of the Moravian Theatre in Olomouc.
In October 2016 Olga Jelínková won The Annual Operaplus.cz Award in the category "the best female singer":
http://operaplus.cz/vyrocni-ceny-opery-plus-olgu-jelinkovou-jaroslava-brezinu-aloise-jezka/
For the title role of the opera The Nightingale (Stravinskij) Olga was nominated to Thalie 2015 award.:
Olga Jelínková in concert for the ocassion of the 50th anniversary of The International Antonin Dvorak Singing Competition under the baton of Sir Libor Pešek.
L. Bernstein, Candide, Glitter and be gay:
The Magic flute, Queen of the night, The Estate Theatre, Prague: