A musician of tremendous emotional power, depth and expressiveness, Ivo Kahánek has gained his reputation as one of the most exciting pianists of his generation and is considered the best Czech contemporary pianist. He is recognised as one of the impressive Romantic pianists and also as a specialist in Czech piano music, possessing a rare and special gift of creating an immediate and compelling emotional connection with his audience.
He won the Prague Spring International Music Competition in 2004 and gained awards at other leading international piano competitions (Maria Canals Piano Competition in Barcelona, Vendome Prize in Vienna, Stiftung Tomassoni Wettbewerb in Cologne, Fryderyk Chopin International Piano Competition in Marienbad, Concertino Praga, etc.).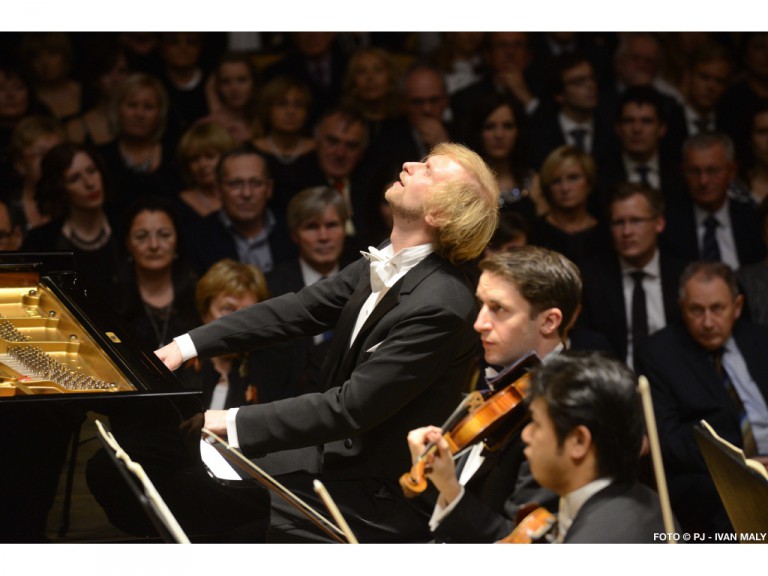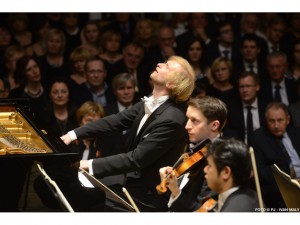 After his successful debuts at Beethovenfest Bonn and Prague Spring Festival he was invited by the BBC to perform the Fourth Piano Concerto ("Incantations") by Bohuslav Martinů at the BBC Proms with the BBC Symphony Orchestra under Jiří Bělohlávek. The concert took place at the Royal Albert Hall in London in August 2007 and was broadcast live by the BBC Radio 3 and the BBC Television as well as the Czech National Radio station "Vltava". This critically acclaimed Proms debut is now being offered by Deutsche Grammophon as a digital download. It's no wonder that Ivo Kahánek was selected by Sir Simon Rattle to perform at two concerts with the Berliner Philharmoniker in November 2014, followed by enthusiastic reactions of critics and the general public alike. The young pianist has become only the second Czech pianist after Rudolf Firkušný to ever perform with the renowned orchestra. Moreover, Ivo Kahánek performs regularly with the Czech Philharmonic Orchestra and has made highly appreciated debuts with BBC Scottish Symphony Orchestra Glasgow, WDR Orchestra Cologne, Philharmonie Essen, Czech Radio Symphony Orchestra, Prague Symphony Orchestra, Prague Philharmonia, Brno Philharmonic and many others. He has performed with well-known conductors, e.g. Pinchas Steinberg, Vladimir Ashkenazy, Jiří Bělohlávek, Zdeněk Mácal, Jakub Hrůša, Tomáš Netopil, etc.
In 2015 he  performed in a tour around Japan playing Tschaikovsky's Concerto in B-flat minor accompanied by Brno Philharmonic under Jakub Hrůša, at the international festivals of Styriarte Graz (Austria), Dresdner Festspiele (Germany), Dvořák's Prague, and play in concerts in Italy, Germany, Denmark, Poland and the Czech Republic.
So far Ivo Kahánek has released nine CDs under the Supraphon Music label (which he has entered an exclusive contract into) with music by Janáček, Martinů, Klein, Kabeláč, Francaix, Ibert i.a… His solo CD (Janáček-Martinů-Kabeláč) has received top rates in prestigious musical journals (Le Monde de la Musique, Classics Today, Fanfare). Besides that he frequently collaborates with Czech Radio and Czech Television. His last solo record was devoted to Fryderyk Chopin´s music (Sonata No. 2 in B minor, 4 Scherzi). A recording of the Moravian and Ukvaldy Folk Poetry is to be released by Supraphon with the exquisite soprano, Martina Janková, as well as a CD with the Concerto for Two String Orchestras, Piano and Timpani by Bohuslav Martinů with Essener Philharmoniker under Tomáš Netopil. Czech Radio is also preparing Martinů – this time it is a recording of the Piano Concerto No. 5 with the Czech Radio Symphony Orchestra under Tomáš Brauner.
A graduate of both the Janáček Conservatoire in Ostrava and the Academy of Performing Arts in Prague, Ivo Kahánek also graduated from the Advanced Instrumental Studies course at the Guildhall School of Music and Drama in London and participated in master classes with Karl-Heinz Kämmerling, Christian Zacharias, Alicia de Larocha, Imogen Cooper, Peter Frankl and many others.
Ivo Kahanek piano, BBC Symphony Orchestra and Jiří Bělohlávek conductor in 2007: